MIRAMASTERS TOASTMASTERS
Welcome to the Mira Masters information Web Site. Mira Masters is a Toastmaster club in the Mira Mesa community in San Diego, California.

-What Mira Masters Toastmasters can do for you

Improve your communication skills and increased visibility, recognition and success will follow.

As a Toastmaster you will acquire an increased ability to motivate and persuade, making you a more effective
business owner or manager.

Leadership skills acquired through participation in Toastmasters will increase your upward mobility.

You will increase your self esteem and confidence.

-What the Experts are saying about Toastmasters:
"Had I not been a good speaker, there isn't one chance in a hundred that I would have ever written a book. So it all started with Toastmasters."-- Harvey Mackay, author of How to Swim with Sharks Without being Eaten Alive.
"Toastmasters is a phenomental opportunity for someone to develop themselves logically and really become a leader, not just a speaker."-- Anthony Robbins, Motivational Speaker.
"Managers also have to be motivators.... the only way you can motivate people is to communicate with them."-- Lee Iacocca, Former Chairman of the Chrysler Corp.
-What Mira Masters Toastmasters say:
"Since joining Mira Masters Toastmasters I have met many quality friends who share my enthusiasm for improving our lives through more effective communication."--David Allen.
" I used to shake when I gave a presentation at work. Now I actually enjoy the experience. Mira Masters Toastmasters made the difference." -- Tom Ludwig, Engineer.
" Mira Masters improved my communication abilities so much that it launched me into the seminar business. I highly recommend Mira Masters." -- Jim Cammarano, Industrial Management Consultant.
Take us up on the opportunity to be our guest!
You are always welcome to come to our club as a guest so that you can experience for yourself Mira Masters Toastmasters. Mira Masters meets every Wednesday evening from 6:30 p.m. to 8:00 p.m. at Webster University, located on 6480 Weathers Place, Suite 104. Enter the front building and walk through the courtyard with the fountain to Suite 104. Refer to the map below. For additional information call Jim at (619) 486-9413 or send e-mail to miramasters@yahoo.com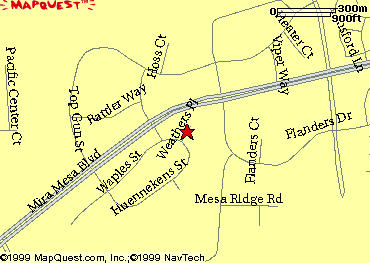 Web site administration: Sergio J. Castro, CTM
"The names "Toastmasters International," "Toastmasters," and the Toastmasters International emblem are trademarks protected in the United States, Canada, and other countries where Toastmasters Clubs exist. Unauthorized use is prohibited."